Gender Gap

Spreading good gender equality practices
Since 2006, World Economic Forum has published the annual Global Gender Gap Index which seeks to measure the relative gaps between women and men across four key areas: health, education, economy and politics. Globally, the average (population-weighted) distance completed to parity is at 68.0% (2018). In other words, to date there is still a 32.0% average gender gap that remains to be closed. At the current rate of change, the global gender gap will take 108 years to close; economic gender parity remains 202 years off.
It is easy to agree that we must all haste the progress and make the change happen together with our members and networks. Therefore Finnish Federation of Graduate Women is taking part of the new Erasmus+ project called NET-POWER – Network for Promotion of Women Empowerment Recognition together with Asociatia Femeilor Univeristaire (Romania), Femmes Chefs d'Entreprises Mondiales (France) and University Women of Europe (the Netherlands). The project, which is coordinated by the language school Italian in Italy, began in October 2019 and ends in spring 2022. During that time, we will collect, exchange and spread good practices regarding various gender gap issues.
The first project meeting was held in Rome, Italy, in November 2019. Due to the global pandemic, all the meetings scheduled for 2020 were postponed. In  spring 2021, the project had two online meetings. In June 2021, an project meeting was organised in Bucharest, Romania. The next meeting will be held in Helsinki, Finland 8. – 10.9.2021.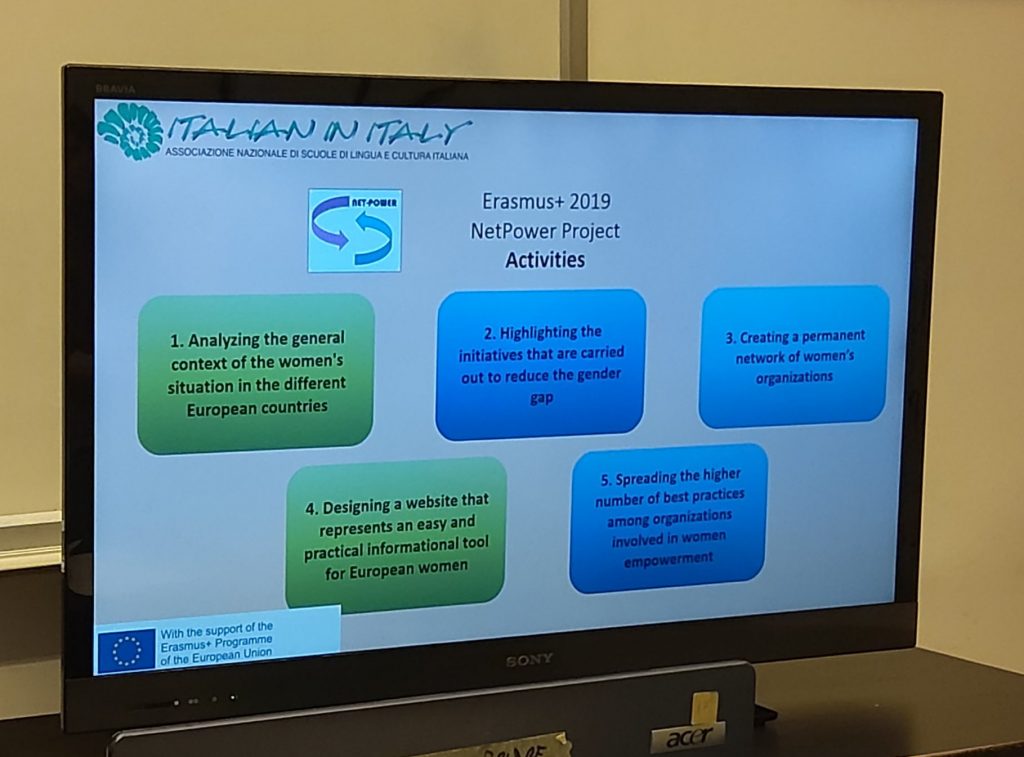 For more information, please contact:
Italy
Marco Ciminiera
Coordinator
Italian in Italy
Email: m.ciminiera(a)accademiastudioitalia.com
https://netpower.space/
and
Pina Foti
President
Italian in Italy
p.foti(a)ils-roma.it
http://www.italianinitaly.org/
Co-partners
Finland
Susanna Sulkunen
CEO
Finnish Federation of Graduate Women
Email: sanl.fkaf(a)akateemisetnaiset.fi
France
Marie Christine Oghly
President
Femmes Chefs d'Entreprises Mondiales
Email: mariechristine.oghly(a)orange.fr
https://www.fcem.org/fr/
Netherlands
Roxana Petrescu
Secretary-General
University Women of Europe
Email: boarduwe(a)gmail.com, petrocksana(a)yahoo.com
http://www.universitywomenofeurope.org/
Romania
Andreea Popescu
President
University Women Association Romania (AFU)
Email: andreea.popescu(a)embrace-interactive.com
www.femei-universitare.ro
This page was last updated 23.7.2021